When Adam and I moved our family to Safety Harbor, Florida almost every house we looked at had the beach theme. Don't get me wrong, I totally get it…beach and Florida…it makes perfect sense. The beach vibe is not the look I was going for though. The house we fell in love with had amazing bones and beautiful knotty pine wood floors throughout the main living area. The floors had been well loved by kids and pets over the years. Floors weren't something we looked at too hard until moving day. We realized how scratched up they really were and it was time to refinish the hardwood floors.
Refinishing Wood Floors: To Hire or Not to Hire?
Since this was about 500 sqft we were not going to be doing this ourselves…or so I thought!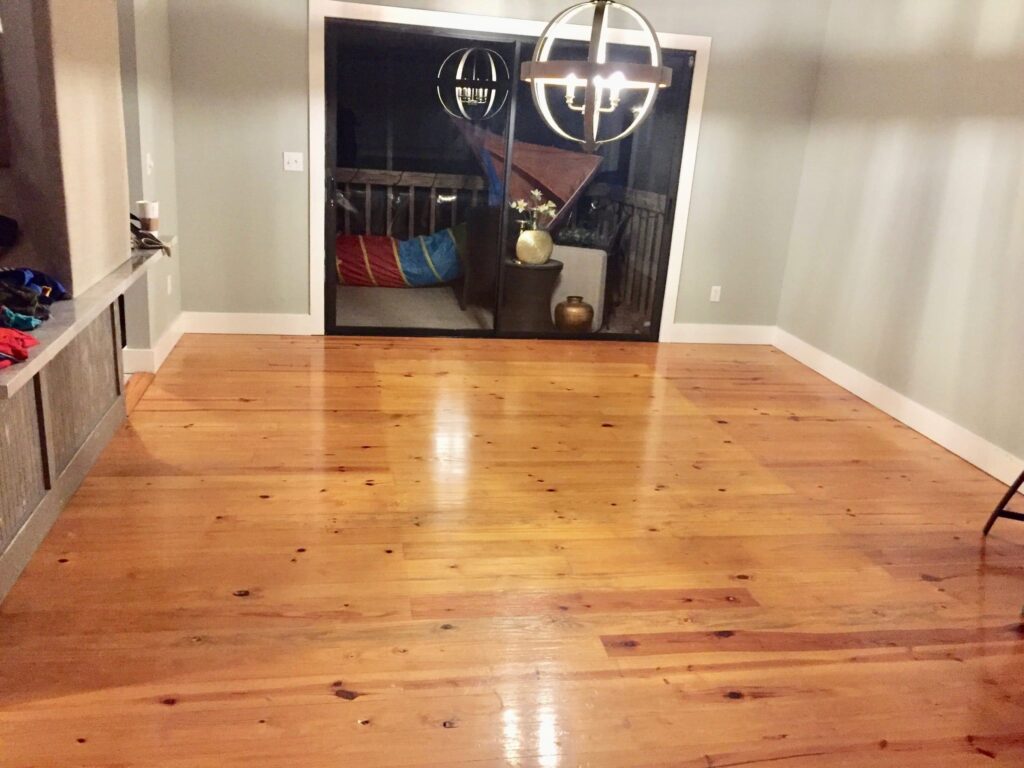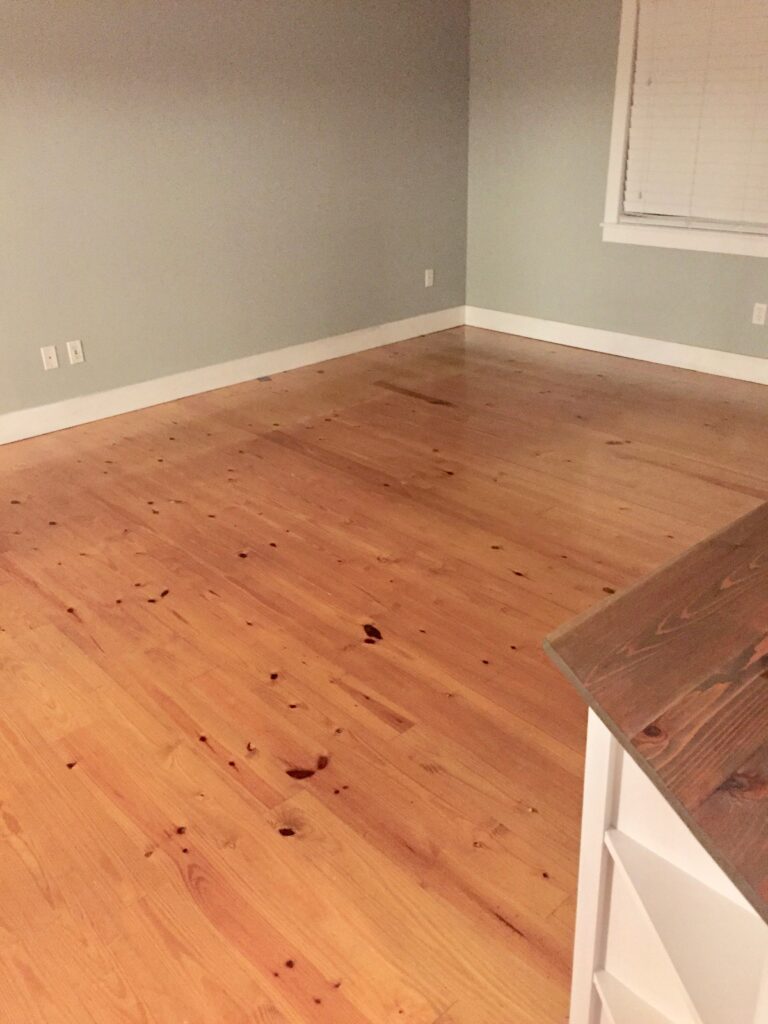 We hired a company to come in and give us a quote. The quote was very reasonable so we booked the job. We had to move all of our furniture off of the floors and pretty much move out of our house for a week. Thankfully we have family in town that we could stay with. The refinishing company brought in the big guns and the big tools and just like that the orangey scratched up floors were beautiful and sanded down to their original glory.
Now the fun part… Choosing the stain color!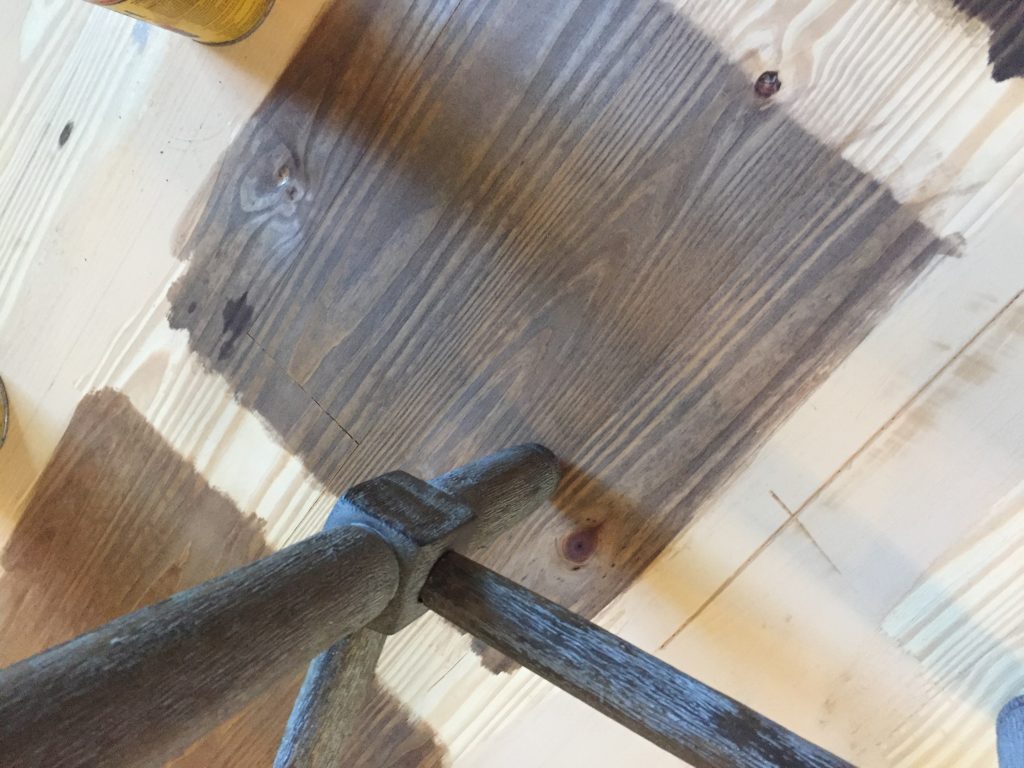 We finally narrowed it down to these two and choose the top one. The company recommended using a wood conditioner so the stain would take better. Which sounded great! So it was stain day and remember we are staying with family about 45 minutes away when I got a text with these pictures…
I immediately responded very concerned…this does not look like the stain color we chose! The response I got was they had stained the whole floor and would be back the next day to seal it!
Learning How to Refinish Wood Floors
Ugh…well now I am in full blown DIY mode! To the store I went to get a staining pad, bag of rags, and stain. Talk about learning how to stain wood floors on the fly…cue my annoyed face and lots of eye rolls.
Once I had applied the stain all over the entire floor it was time to wipe it off…
This was so much work that I got light headed and called my husband to come home from work and help me. He asked if I had the windows open and I said…Whoops! Well that makes sense no wonder I feel like I am going to throw up and my head is pounding. The fumes in this house were serious and I was so stressed about the color I didn't even notice!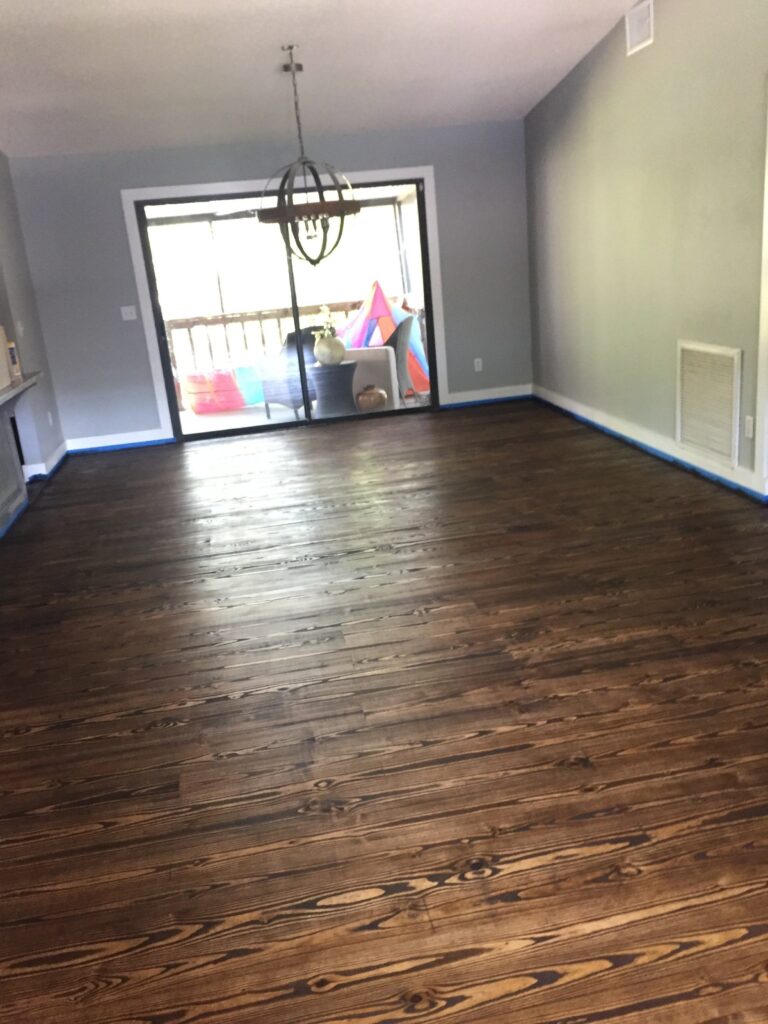 The floors look so good! I could hardly wait to bring my furniture back in!
So thankfully the flooring company was gracious and understanding and worked with me to remedy this whoops. But all I have to say is thank goodness I am a go-getter and got my DIY on! Have you ever been put in a situation where you were forced to go into DIY mode to save a project? I would love to hear about it in the comments below!
Be sure to checkout some of my other projects, including how I transformed my kitchen with stone coat countertops.
Here are the materials I used to stain my floors. (Keep in mind I had a company do the sanding, wood filling, and sealing.)